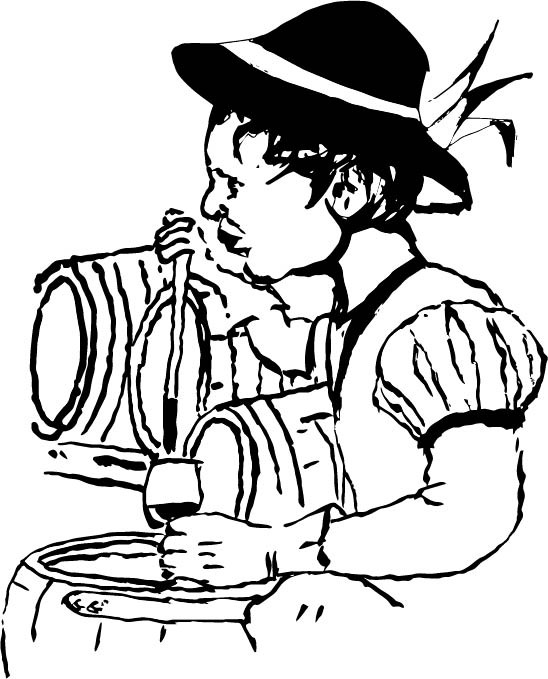 CHARACTERISTICS  / PACKAGE / PRODUCTIVE SYSTEM
ORIGIN:
When you love the strong tart flavor of dry vinegar with the taste and aroma of Balsamic condiment typical of our region, Reggio Emilia, then we have just describedLory's Food Dressing.
It is produced with high quality dry wine vinegar combined with "Balsamic M.V". condiment and aged for several years in large wooden barrels.
The cut is then refined for a year in oak and chestnut barrels until a homogeneous and well blended product is obtained.
CHARACTERISTICS:

Our product is gluten-free with no added sulfites and no caramel, preservatives, colorings or artificial aromatic additives.
It is a completely NATURAL and complex product, with a bright brown color and adecidedly tart taste.

EXPIRY DATE:

The product does not expire.
We indicate about 10 year.

STORAGE:
At room temperature.
The bottle must always be closed after use.
PACKAGING:
Our product comes in 100 ml. and 200 ml. (3.4 and 8.5 Fl. oz.) bottles.
The bottle has a wax sealed cork-like stopper and a screen-printed profile portrait of Lory designed by a friend, Carlo Dotti.
The bottle comes in a silkscreened cardboard box.
USE:
Perfect for marinating meats and fish, for dressing salads and vegetable cruditès.
PRODUCTIVE SYSTEM: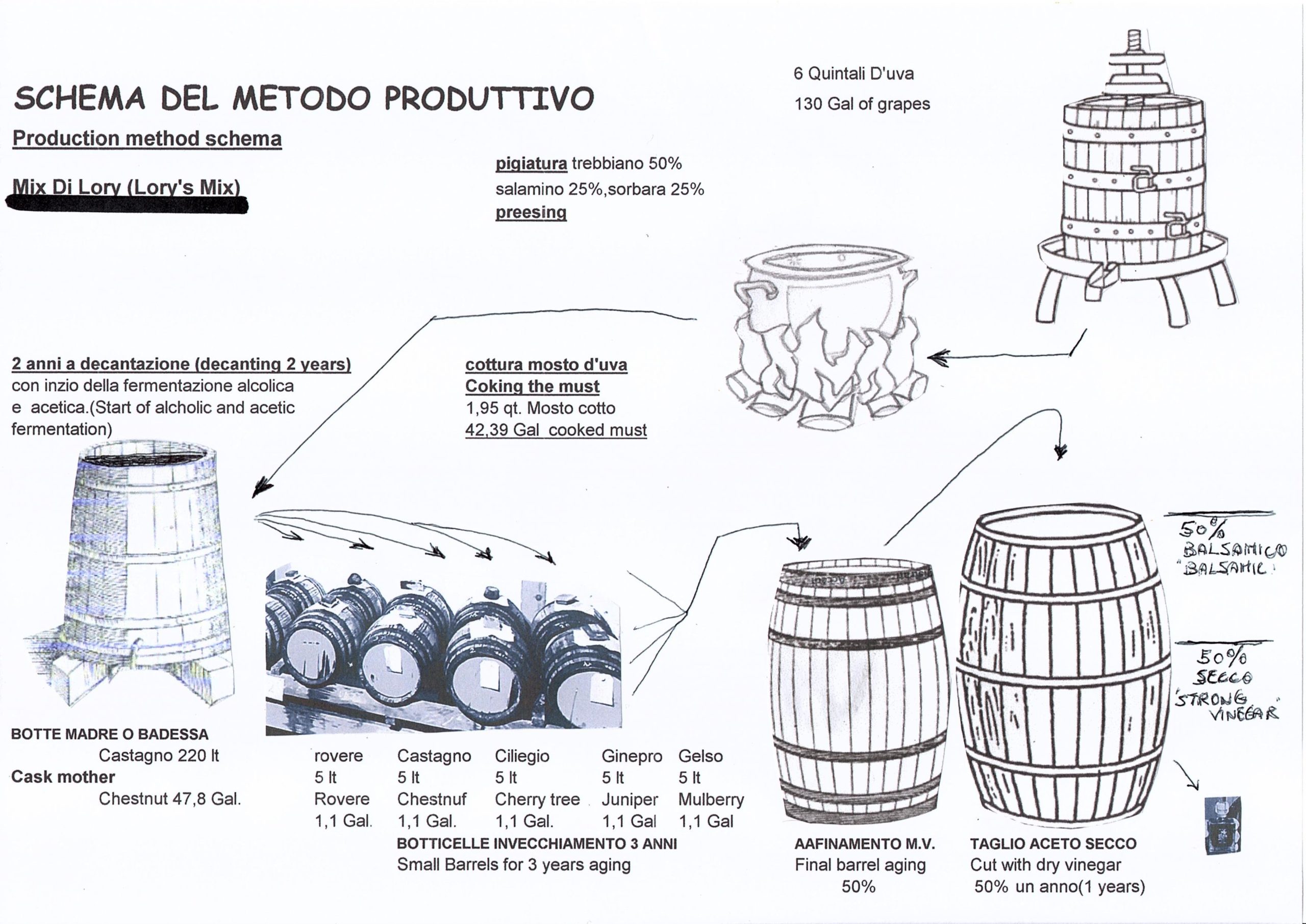 The procedure takes no less than 7 years for cooked grape must ("Balsamic M.V.") and two years for wine vinegar, in a natural environment: hot in summer, cold in the winter.
The typical characteristics of processing this dressing consists in the aging of M.V. Balsamic condiment in small casks of various woods and the wine vinegar in larger barrels.
Balsamic Vinegar is refined over time thanks to the annual refilling or topping off with cooked grape must transferred from the "badessa" or "botte madre" (mother barrel) containing fermented cooked grape must acetified for two years.
After 6 years the product is ready.
Dried vinegar is aged in large oak barrels and will not undergo any special treatment until it is cut with the M.V. Balsamic Vinegar.
Grapes used:
"Lory's Mix" is obtained from grapes grown in vineyards located in the province of Reggio Emilia.Marco Violi mainly uses white grapes.
MATURATION AND AGING of the "Balsamic M.V." Condiment
used for Lory's Mix:

The grape must is cooked over an open fire until it's reduced approximately to a third
of its original volume.
It has two important purposes:
1. To sterilize the must from unwanted substances. Impurities are skimmed away
and discarded because it could alter fermentation which should take place only
in the barrel.
2. To reduce the grape must to a concentrate of about one third of its volume by
evaporation. Cooking induces a series of reactions, which mainly involve sugar
concentration that contribute to define color and part of the aroma that is
typical of balsamic vinegar. The sugar content also provides nourishment for
the yeast. Yeast transforms sugar intoalcohol, producing nourishment for acetic
bacteria which then turns the alcohol into acetic acid.
The grape must is simmered for about 12 hours. It is the manufacturer's
responsibility to avoid excessively over cooking at high temperatures as the sugar
will caramelize, blocking fermentation, thus giving the must an unpleasant,
scorched taste.
Alcoholic fermentation and Acetic oxidation
To obtain a must with 24% sugar and 6% alcohol the cooked must is removed from
the kettle and cooled, then it is transferred to holding tanks "badessa" and combined
with an older Balsamic Vinegar that includes various active yeasts and bacteria which
help turn the juice into acetic acid (vinegar).
The cooked must actually benefits from the alternating cold winter season and the
summer heat.
The cold temperature allows the must to rest and mature; the grape must is decanted
and becomes a naturally clear color.
In the summer the vinegar bacteria are set in motion and transforms the alcohol of the
must into acetic acid.
During summer months the area should be ventilated and premises kept dark.
This natural chemistry allows Balsamic Vinegar to develop and improve for years.
3.Maturation and Aging in Wooden Casks
The fermented and acetified must in the "badessa" can now be transferred in small
casks of 5/6 liters each, where the vinegar goes through what is called "maturation"
and aging.
At this point it is fundamental the care and the attention in which the producers
choose the various types of wooden casks to use in the production of the Balsamic
Vinegar. Most producers use a variety of woods.
The woods generally used are:
• chestnut, which yields color and facilitates acidification;
• oak, strong and compact, confers a vanilla aroma;
• cherry, gives the condiment a fruit aroma, sweet and delicate;
• juniper, defines a strong aroma of resinous wood.
AGING AND REFINING PROCEDURE: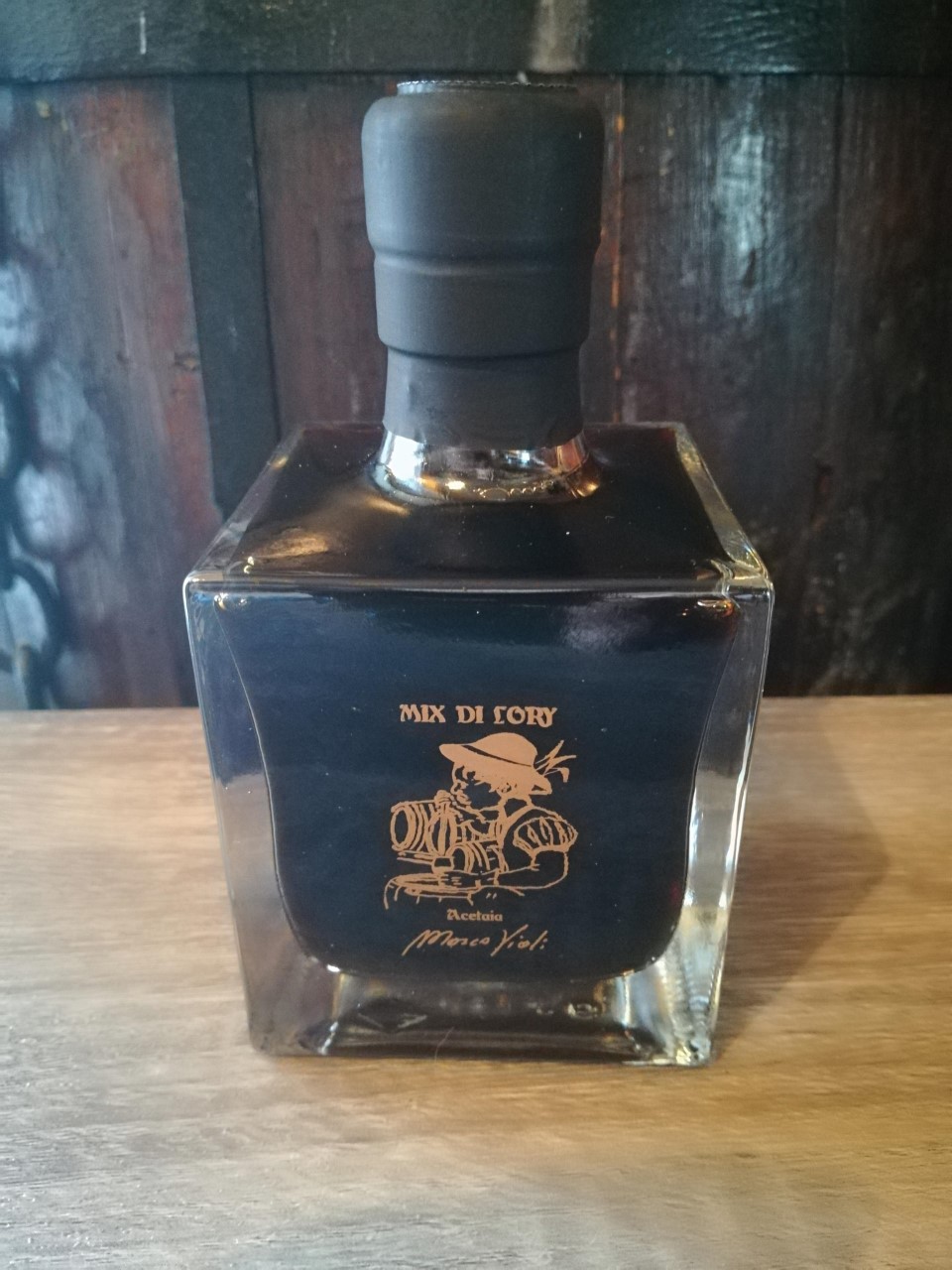 The method is as follows:
• 1st year: each barrel "badessa" is filled to 80% of their capacity with cooked
must for fermentation and acidification and it is left to rest for at least two years.
• 3rd year: the vinegar is decanted and transferred to the 5-liter casks for aging.
During this phase it is necessary to maintain the vinegar volume constant inside
every cask over the years by refilling or "topping up" or "topping off" with
other vinegar (each year the cooked must loses approximately 10% of its
volume through evaporation).
• 6th year: the finished product is withdrawn from the casks and put to rest and
refine in a large oak barrel.
• 7th / 8th year: the Balsamic Vinegar is ready.
CONTROL:
Chemical characteristics: each batch is controlled for density and acidity.
"Lory's Mix" has a density of approximately 1,15/ml and about 9% of acidity.
Organoleptic characteristics: Before I consider the "Lory's Mix" suitable for
bottling, each batch is examined for taste, visual characteristics and aroma.
INFORMAZIONI/VALORI NUTRIZIONALI
aggiornati per L.104061932-118111965-126092002
Mix di Lory 

Valori Nutrizionali medi per 100 ml.
Avarage nutrition facts for 100 ml.
Valeurs nutritionelles moyennes puor 100 ml.
Nàhrwerte pro oder 100 ml.
Energia/Energy/Energie/Brennwert: Kj 1030-Kcal 242
Grassi totali / Total fat /Matières grasses/Fett: 0 g
di cui saturi/ Saturated fat/Dont acides gras
saturès/Davon gesàttigte Fettsàuren: 0g
Carboidrati totali/Glucides/
Total Carbohydrates:/ Kohlenhydrate: 56 g
di cui zuccheri/Sugar/Dont sucres/davon Zucker: 56 g
Fibre / Fiber/Fibres: 0 g
Sodio/Sodium/Natrium: 0,02 g
Proteine/Protein/Protèines/EiweiB: 1,2 g
Sale/Salt/Sel/Salz: 0,05 g


Informazioni generali per tutti i prodotti:
.-Fare attenzione alla data di scadenza;
.-Conservare a temperatura ambiente in luoghi asciutti
.-Dose giornaliera raccomandata (Reg. (UE) n° 1169/20119,
basato su una dieta di 2000 kcal/8400.
.-Il calcolo finale dell'energia è stato effettuato come previsto
dal regolamento (UE) n° 1169/2011 considerando
i valori medi di acidi organici.